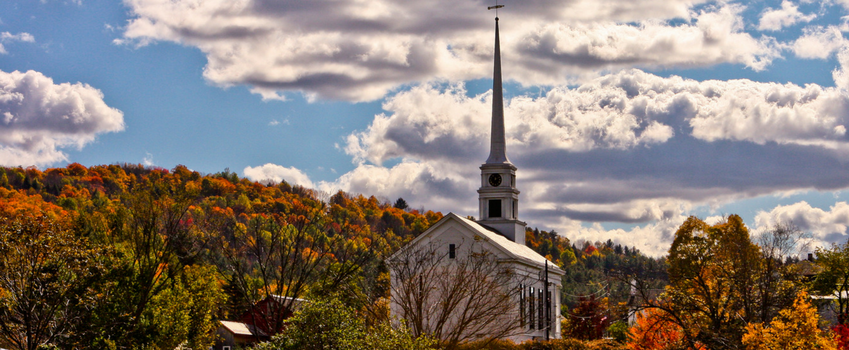 If you live in Vermont, one of the best times of the year is fall. The scenery around you changes on a daily basis from deep greens to an assortment of warm colors. Looking out your window to a collage of yellow, red, and orange is enough to make anyone grateful that this is their home. Luckily, we know it and celebrate it through many harvest and foliage festivals throughout the season.
In our area, you'll find the Stowe Foliage Arts Festival taking place from October 7-9. And, while fall is amazing, every season in Vermont is beautiful from snowy peaks to refreshing dips in our lakes. Living here, you get the best of every season. Vermont is an ideal place to raise a family with numerous outdoor activities for everyone year round.
This article, written by Jaymi Naciri, highlights some easy, low-cost ways to spice up your home. From trim to large scale art there are plenty of ways to make a statement with your unique style. Vermont is home to many wonderful artists and craftsman who sell lovely pieces of decorative paintings, ornaments and much more that could add to the look you're going for.
Big, blank walls can be boring and blah. Thankfully, there are quite a few ways you can jazz them up and bring in some snazzy style.
Crown Molding
If you're going to get technical, crown molding doesn't exactly go on the walls, but rather between the wall and the floor and the wall and the ceiling. But it can help transform a just so-so room into one that's elegant and that looks finished. It's a job that can be done on your own (we hear you can, anyway) as long as you have a saw and some mathematical ability to figure out mitered edges. Or you can hire a mathematician/contractor, like we do.
Trim, trim, and more trim
There are a thousand ways you can use trim to dress up your walls, from traditional chair moldings or classic wainscoting to something a little more unique and future-forward, and you can see just about that many here. Add in a healthy dose of color to create a bold and interesting look.
Wallpaper
Perhaps nothing gives you that instant pop like wallpaper. If you really want to make it interesting, choose something with pattern or texture, or both! One more tip: If you have odd angles or walls that aren't the same length, or you're just trying to create a little interest in a boring spot, you don't have to cover the whole thing. A strip may be all you need.
Painted feature wall
Painting a feature wall is a good way to pump up the design in a room, and also to dip a toe into the world of color without letting it take over your whole space. The best part: If you don't love it or you get tired of it quickly, you can paint over it and start fresh with a new hue!
"As soon as you paint this statement wall, THAT will be the new feature of your room," said Hill District Mums. "So forget about your expensive sofa, your brand new quirky rug or the amazing print you ordered online. Are you ready to make them the second most important things in the room? A feature wall is bigger than all the other pieces in a room. It is at your eye-level and normally a color that catches your eye."
Rustic reclaimed wood
Love the reclaimed look but don't have a barn handy? Or maybe you don't want to go to the hassle of picking out and purchasing wood, and especially having it installed. Artis Wall might have just solved your problem. This easily installed and removable product can help you create an accent wall in no time, with tacky strips that you simply peel off when you're ready for a whole new look.
A gallery wall
Framing family pictures and creating a wall of memories has long been popular. But you can give it a modern twist by having your photos printed on canvas. You choose the size, upload your pics (even from Facebook or Instagram), and pick from filters including black & white and sepia.
Large-scale art
Or maybe a gallery wall isn't for you, no matter what format you use. "Forget the gallery wall. What's hot is statement art," said POPSUGAR. "Large pieces -- over 5 feet -- were searched four times more than small art. These statement pieces, especially tightly cropped scenes, provide designers with the 'wow' factor they used to seek from an eclectic mix of smaller works."
Sites like Overstock, art.com, and icanvas, where we found this large-scale abstract from Julian Spencer called, "Rain Clouds," offer an amazing amount of options and often have coupons for substantial discounts on their site (Rain Clouds is available in several different formats and sizes; this one is 40x60 and priced at $261 with a current 55% off promotion).
To read the original article click here.