Blog :: 03-2018
April is just around the corner and that means you need to get your act together. We know you've been ignoring the steadily growing checklist of things you need to do; declutter, wash the windows, sweep, etc. The truth is you just have to do it.
One of the biggest things people seem to struggle with is an overabundance of STUFF. Do you really need so much STUFF? Probably not. Getting rid of unwanted or unusable items will make your job much easier. We've made a list of some things that need to be chucked.
Wire hangers - They're bent, they're awkward and every piece of clothing you own falls off of them. Chuck 'em.
Dish sponge - If you can't distinguish what color the sponge was when you got it, it's got to go!
Old shoes - We all tend to stock up on shoes since they're generally not cheap but if they've seen better days then you need to let go. Maybe donate them if they're still usable but not your style.
Clothes you've never worn - Along the same lines; you know you have clothes that you have never and probably will never wear. Bag or box them up and give them to someone who WILL use them.
Solo socks - If your sock has lost its companion give up all hope. You will never find it again.
Expired makeup/medicine - This is important for space and for health. Old makeup can build up bacteria and irritate your skin and old medicine becomes ineffective.
Toothbrush - Our rule of thumb? If you can't remember when you bought the brush, chuck it.
Calendars - We know it's March but I still have a 2017 calendar up so I figured I wasn't alone.
Unidentifiable frozen objects - If you want to risk it, that's your prerogative.
Old glasses - If you've upgraded prescriptions you're never going to be able to use those glasses anyway. Donate them.
Old chargers - People today get new phones every other year or so but it can seem like a waste to throw perfectly good chargers away. Too bad. Ask if anyone can use it and then toss it. Older model phone chargers won't work with today's newer models anyway.
Remotes - You know how you have 5 remotes on your coffee table? Chances are you don't need them. At the very least, pack away the ones you never use or have forgotten the use for.
Manuals - Most manuals can be found online these days and you don't need to keep a textbook-sized packet on your new blender.
Games with missing pieces - If you're missing an integral part of your game, like the wheel in LIFE, it might be time to get a new set.
Old maps - They made GPS for a reason.
We hope these help you on your quest to conquer spring cleaning!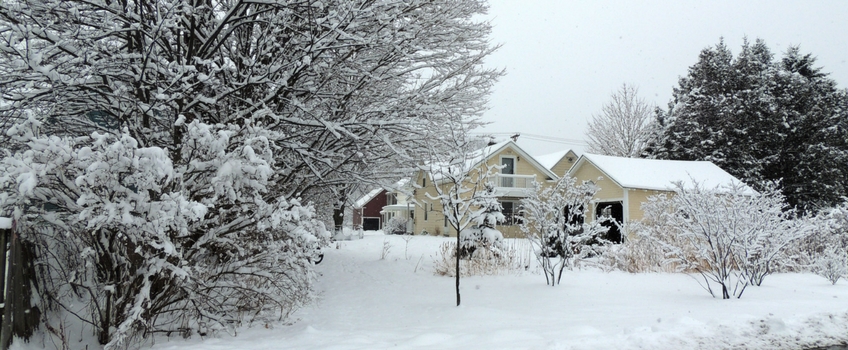 As Northeastern Quinn barrels up the east coast, we figured it would be a good time to discuss prepping for a storm and best practices for during. Snow can build up fast in New England and Vermont especially where winters can be unpredictable. Most of the time, life moves as usual, if at a slower pace, but you want to be prepared. Heavy snow can lead to home damage and power outages and this can become very dangerous if you're not ready for it.
Emergency supplies: First things first you'll want to hit the grocery store and make sure you're stocked up on water & food that doesn't require a microwave or oven. Depending on your heating situation you'll want to bring in more wood, make sure your propane tank is full, or check on your generator.
Simple supplies like blankets, pillows, and warm clothes are very important if you rely on electric heat. Power lines going down are not uncommon with big snowstorms and depending on how bad the forecast is, it could take a while to get your power restored.
Shovels are a must-have for any homeowner and we suggest owning a couple. Heavy snow has broken more than a few shovels, so it's best to invest in quality ones. In this case, finding the best deal is not advised if it's a cheap piece of plastic.
A couple of other items to make sure you have handy would be flashlights, batteries, and matches.
Snow removal: During a storm, it's important to keep up with things like shoveling. Roofs and decks can collapse under the weight of snow if it accumulates too much. It's best to shovel before too much builds up, so you don't overexert yourself trying to remove too much at once. If you are living in Vermont, or other New England states that can see a lot of snow, you will want to invest in a roof rake as well. You might not be able to remove all the snow from your roof but even shoveling off half will reduce the stress being put on your structure.
If you know of a place in your house, maybe a window or door, that is generally drafty, make sure you cover it up. There are actual draft guards but rolling up a towel and placing it appropriately can be just as effective. This will keep you warmer and save energy costs.
Storm prep BEFORE winter: It's too late to do some of these now, but they can save you a lot of trouble in the future.
Clear gutters – build up in your gutters can lead to ice dams in the winter where water can sit for long periods on your roof. If this happens and the water sinks under your roofline you can be looking at thousands of dollars worth of water damage.
Trim branches - tree branches can get extremely heavy under the weight of snow and power lines aren't the only thing they can take out. Trim back any large branches that extend close to your home and you won't have a rude awakening when a branch decides to break a window or take out part of your roof.
Insulate exposed pipes - the cold weather from a few weeks ago caused major damage to businesses and homes around the state when pipes burst. Simply using foam can help and be done relatively easily, depending on how accessible your pipes are. Some people also suggest leaving warm and cold water dripping, so there's movement through the pipes.