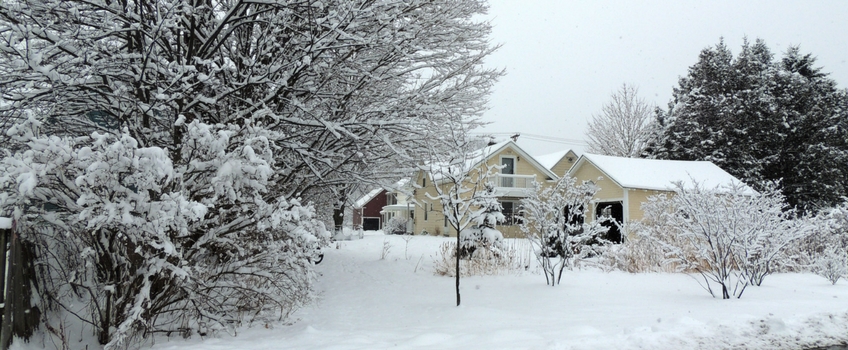 As Northeastern Quinn barrels up the east coast, we figured it would be a good time to discuss prepping for a storm and best practices for during. Snow can build up fast in New England and Vermont especially where winters can be unpredictable. Most of the time, life moves as usual, if at a slower pace, but you want to be prepared. Heavy snow can lead to home damage and power outages and this can become very dangerous if you're not ready for it.
Emergency supplies: First things first you'll want to hit the grocery store and make sure you're stocked up on water & food that doesn't require a microwave or oven. Depending on your heating situation you'll want to bring in more wood, make sure your propane tank is full, or check on your generator.
Simple supplies like blankets, pillows, and warm clothes are very important if you rely on electric heat. Power lines going down are not uncommon with big snowstorms and depending on how bad the forecast is, it could take a while to get your power restored.
Shovels are a must-have for any homeowner and we suggest owning a couple. Heavy snow has broken more than a few shovels, so it's best to invest in quality ones. In this case, finding the best deal is not advised if it's a cheap piece of plastic.
A couple of other items to make sure you have handy would be flashlights, batteries, and matches.
Snow removal: During a storm, it's important to keep up with things like shoveling. Roofs and decks can collapse under the weight of snow if it accumulates too much. It's best to shovel before too much builds up, so you don't overexert yourself trying to remove too much at once. If you are living in Vermont, or other New England states that can see a lot of snow, you will want to invest in a roof rake as well. You might not be able to remove all the snow from your roof but even shoveling off half will reduce the stress being put on your structure.
If you know of a place in your house, maybe a window or door, that is generally drafty, make sure you cover it up. There are actual draft guards but rolling up a towel and placing it appropriately can be just as effective. This will keep you warmer and save energy costs.
Storm prep BEFORE winter: It's too late to do some of these now, but they can save you a lot of trouble in the future.
Clear gutters – build up in your gutters can lead to ice dams in the winter where water can sit for long periods on your roof. If this happens and the water sinks under your roofline you can be looking at thousands of dollars worth of water damage.
Trim branches - tree branches can get extremely heavy under the weight of snow and power lines aren't the only thing they can take out. Trim back any large branches that extend close to your home and you won't have a rude awakening when a branch decides to break a window or take out part of your roof.
Insulate exposed pipes - the cold weather from a few weeks ago caused major damage to businesses and homes around the state when pipes burst. Simply using foam can help and be done relatively easily, depending on how accessible your pipes are. Some people also suggest leaving warm and cold water dripping, so there's movement through the pipes.